Donald Trump to be Allowed Back on Facebook After 2-Year Ban
Facebook parent Meta said Wednesday it will restore former President Donald Trump 's personal account in the coming weeks, ending a two-year suspension it imposed in the wake of the Jan. 6 insurrection.
The company said in a blog post it is adding "new guardrails" to ensure there are no "repeat offenders" who violate its rules, even if they are political candidates or world leaders.
"The public should be able to hear what their politicians are saying — the good, the bad and the ugly — so that they can make informed choices at the ballot box," wrote Nick Clegg, Meta's vice president of global affairs.
Clegg added that when there is a "clear risk" to real-world harm, Meta will intervene.
"In the event that Mr. Trump posts further violating content, the content will be removed and he will be suspended for between one month and two years, depending on the severity of the violation," he wrote. Facebook suspended Trump on Jan. 7, 2021, for praising people engaged in violent acts at the Capitol a day earlier. But the company had resisted earlier calls — including from its own employees — to remove Trump's account.
Meta said Trump's accounts will be restored "in the coming weeks" on both Facebook and Instagram. Banned from mainstream social media, Trump has been relying on Truth Social, which he launched after being blocked from Twitter.
Facebook is not only the world's largest social media site, but had been a crucial source of fundraising revenue for Trump's campaigns, which spent millions of dollars on the company's ads in 2016 and 2020. The move, which comes as Trump is ramping up his third run for the White House, will not only allow Trump to communicate directly with his 34 million followers — dramatically more than the 4.8 million who currently follow him on Truth Social — but will also allow him to resume direct fundraising. During the suspension, his supporters were able to raise money for him, but couldn't run ads directly from him or in his voice.
Responding to the news, Trump blasted Facebook's original decision to suspend his account as he praised Truth Social.
"FACEBOOK, which has lost Billions of Dollars in value since "deplatforming" your favorite President, me, has just announced that they are reinstating my account. Such a thing should never again happen to a sitting President, or anybody else who is not deserving of retribution!" he wrote.
Other social media companies, including Snapchat, where he remains suspended, also kicked him off their platforms following the insurrection. He was recently reinstated on Twitter after Elon Musk took over the company. He has not tweeted yet.
Civil rights groups and others on the left were quick to denounce Meta's move. Letting Trump back on Facebook sends a signal to other figures with large online audiences that they may break the rules without lasting consequences, said Heidi Beirich, founder of the Global Project Against Hate and Extremism and a member of a group called the Real Facebook Oversight Board that has criticized the platform's efforts.
"I am not surprised but it is a disaster," Beirich said of Meta's decision. "Facebook created loopholes for Trump that he went right through. He incited an insurrection on Facebook. And now he's back."
NAACP President Derrick Johnson blasted the decision as "a prime example of putting profits above people's safety" and a "grave mistake."
"It's quite astonishing that one can spew hatred, fuel conspiracies, and incite a violent insurrection at our nation's Capitol building, and Mark Zuckerberg still believes that is not enough to remove someone from his platforms," he said.
But Jameel Jaffer, executive director of the Knight First Amendment Institute at Columbia University called the reinstatement "the right call — not because the former president has any right to be on the platform but because the public has an interest in hearing directly from candidates for political office."
The ACLU also called it the right move.
"Like it or not, President Trump is one of the country's leading political figures and the public has a strong interest in hearing his speech. Indeed, some of Trump's most offensive social media posts ended up being critical evidence in lawsuits filed against him and his administration," said Anthony D. Romero, executive director of the American Civil Liberties Union. "The biggest social media companies are central actors when it comes to our collective ability to speak — and hear the speech of others — online. They should err on the side of allowing a wide range of political speech, even when it offends."
Clegg said that in light of his previous violations, Trump now faces heightened penalties for repeat offenses. Such penalties "will apply to other public figures whose accounts are reinstated from suspensions related to civil unrest under our updated protocol."
If Trump — or anyone else — posts material that doesn't violate Facebook's rules but is otherwise harmful and could lead to events such as the Jan. 6 insurrection, Meta says it will not remove it but it may limit its reach. This includes praising the QAnon conspiracy theory or trying to delegitimize an upcoming election.
While Trump has insisted publicly that he has no intention of returning to Twitter, he has been discussing doing so in recent weeks, according to two people familiar with the plans who spoke on condition of anonymity to discuss private conversations.
Though it has been eclipsed culturally by newer rivals like TikTok, Facebook remains the world's largest social media site and is an incredibly powerful political platform, particularly among older Americans, who are most likely to vote and give money to campaigns.
Throughout his tenure as president, Trump's use of social media posed a significant challenge to major social media platforms trying to balance the public's need to hear from their elected leaders with worries about misinformation, harassment and incitement of violence.
"In a healthier information ecosystem, the decisions of a single company would not carry such immense political significance, and we hope that new platforms will emerge to challenge the hegemony of the social media giants," the ACLU's Romero said.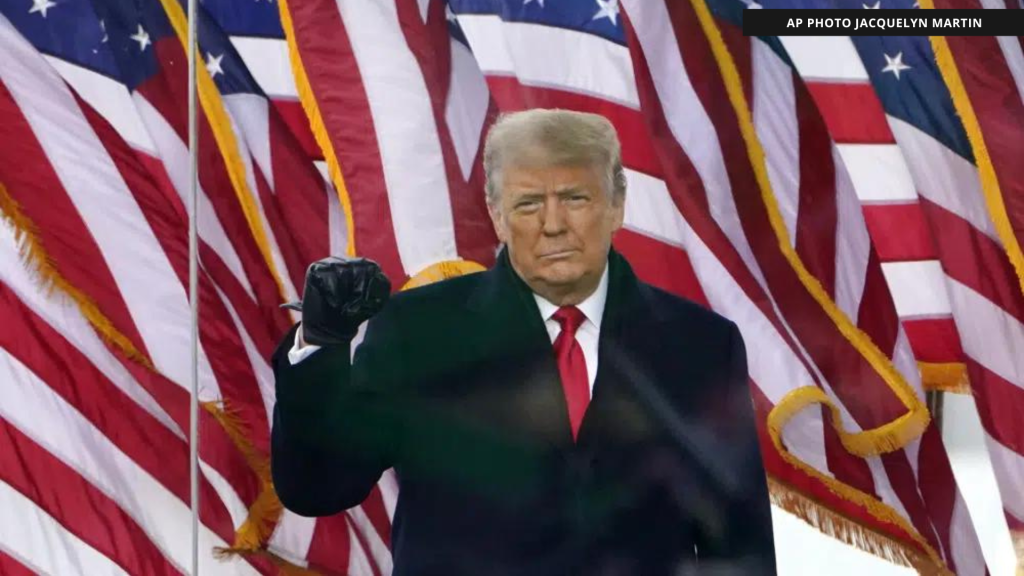 Copyright 2023 by the Associated Press.  All Rights Reserved.
Source: https://www.wmal.com/2023/01/26/donald-trump-to-be-allowed-back-on-facebook-after-2-year-ban/?fbclid=IwAR2xlBURbBh3X9cX1y9eG1hnNi7Ae0oEX30gEbSId6TO3ibp9_XdVpBqE4E