The speech, which was weeks in the planning, previews how Biden will navigate a tricky set of parameters that limit how frankly he can talk about Trump.
TEMPE, Ariz. — President Joe Biden on Thursday called his once-and-perhaps-future opponent Donald Trump a direct threat to American democracy in the most forceful condemnation of the former president and the MAGA movement he has delivered since he took office.
Biden said at a speech in Arizona that Trump holds the dangerous view that presidents possess fearsome, unchecked powers, a position at odds with the constitutional norms meant to prevent unilateral rule. Though he seldom mentions Trump by name, Biden quoted something his predecessor said in 2019 when he was speaking to a conservative student group.
"Then I have an Article II, where I have the right to do whatever I want as president," Trump said at the time. "But I don't even talk about that." Article II spells out the powers and duties of the presidency.
Biden, speaking at an event honoring the late Sen. John McCain of Arizona, said: "I've never even heard a president say that in jest. Not guided by the Constitution or by common service and decency toward our fellow Americans, but by vengeance and vindictiveness."
The speech was weeks in the planning, and Biden worked on it aboard Air Force One as he flew to Arizona, a senior White House official said. His remarks preview how he will navigate a tricky set of parameters that limit how frankly he can talk about Trump.
Trump, a heavy favorite to win the 2024 Republican presidential nomination, faces federal and state indictments accusing him of using various levers of power to try to overturn his loss in the 2020 election. In every case, he has denied any wrongdoing.
Normally, that sort of baggage would be a ripe target for a political opponent. But Biden is also a sitting president whose Justice Department is prosecuting Trump. Any mention of Trump's legal woes could be seen as politically motivated interference. So Biden has stayed silent about Trump's felony charges — and he remained so in Thursday's speech.
Instead, he focused on Trump's attacks on institutions that are crucial to a healthy representative democracy. He discussed plans developed by people in Trump's orbit to expand presidential authority in ways that would replace career civil servants with people who owe their loyalty chiefly to the president.
"What is it they intend to do," Biden said, "once they erode the constitutional order of checks and balances and separation of powers? Limit the independence of federal agencies? Put them under the thumb of a president?"
Biden denounced Trump's attacks on the free press and also Gen. Mark Milley, the outgoing chairman of the Joint Chiefs of Staff. Milley said he was taking precautions to protect himself and his family after Trump suggested without evidence on his social media site that Milley had made improper contact with China about Trump's thinking.
"This is an act so egregious that, in times gone by, the punishment would have been DEATH!" Trump wrote.
Biden said: "The silence is deafening. Hardly any Republican called out such heinous statements."
In response to Biden's speech, a spokesman for Trump's campaign, Steven Cheung, said, "The radical left Democrats, now led by Crooked Joe Biden, are the greatest threat to democracy the United States of America has ever faced."
Biden's speech is the fourth in a series centered on fortifying democratic values against attacks from what he describes as Republican extremists bent on eviscerating self-government. He singled out the "Make America Great Again" movement that Trump leads.
"This MAGA threat is a threat to the brick and mortar of our democratic institutions," Biden said. "It's also a threat to the character of our nation that gives our Constitution life, that binds us together as Americans, a common cause. None of this is surprising, though. They've tried to govern that way before. Thank God they failed. But they haven't given up."
Biden also used the speech to celebrate McCain, whom Trump once ridiculed for having been taken prisoner during the Vietnam War. Biden is setting aside federal funding for a library honoring McCain that will also offer education, work and health programs to needy communities in Arizona, a White House official said.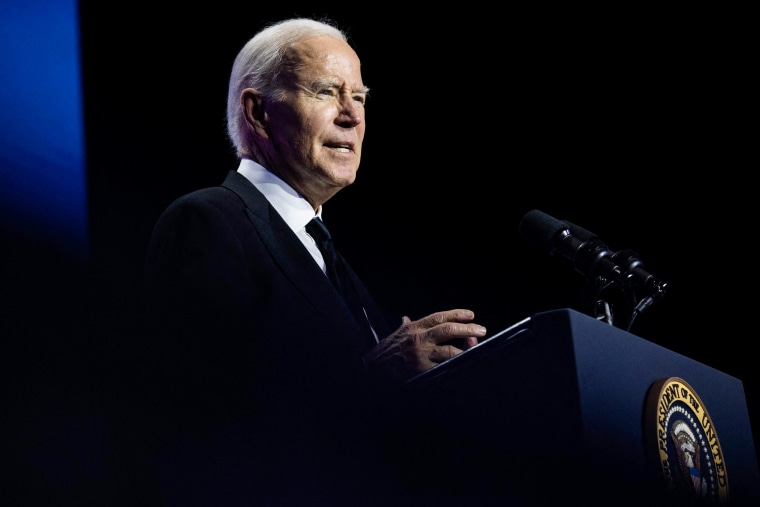 Biden sees McCain as a model of a faded bipartisan spirit that he would like to revive. McCain was willing to break with his party on matters of principle, angering then-President Trump in 2017 when he gave a memorable thumbs-down gesture on a Senate vote to repeal the 2010 Affordable Care Act.
After he lost the 2008 presidential race to Barack Obama, McCain conceded defeat, which Trump has yet to do since he lost in 2020. A new 60-second Biden campaign ad includes photos of Biden with McCain and other prominent Republicans to showcase his willingness to work cooperatively with the other party.
Biden's speech underscores how the 2024 presidential race has entered a new, post-primary phase even before the first primary votes have been cast. Trump has cemented an outsize lead in the race for the GOP nomination, and the Biden campaign is shifting its focus to him earlier than it had anticipated.
In a cheeky post on X, the social media site formerly known as Twitter, Biden showed a snippet from the Republican presidential debate Wednesday night in which Florida Gov. Ron DeSantis criticized Trump for not showing up at the forum.
"Donald Trump is missing in action," DeSantis says in the clip.
"That's right," Biden wrote.
The site of Thursday's speech had been a moving target. The White House had originally considered Valley Forge in Pennsylvania, a nod to the Continental Army's fight against British rule in the harsh winter of 1777-78, a senior White House official said.
At a time when some voters seem willing to cast aside constitutional freedoms, Biden sought to remind them of the painful sacrifices made to build an enduring democracy.
"People can be frustrated at the pace of progress," the official said, speaking on condition of anonymity to discuss the thinking behind the speech. "But our institutions also hold us together. The Constitution is a check on the abuse of power. And if you attack the free press, you subvert the will of the voters, you risk unraveling it all."
Biden's warning about Trump is unusual in the modern history of presidential campaigns. Although he has plenty of quarrels with Trump over policy, he is casting Trumpism as a mortal threat to the very constitutional order that gives Americans the right to hire and fire their leaders.
"Their extreme agenda, if carried out, would fundamentally alter the institutions of American democracy as we know it," Biden said. "My friends, they're not hiding their attacks; they're openly promoting them. Attacking the free press as the enemy of the people. Attacking the rule of law as an impediment. Fomenting voter suppression and election subversion."
But polling suggests Biden's message thus far has failed to break through. If anything, Democrats are losing ground on that front.
Biden gave a similar speech in Philadelphia a year ago. "Donald Trump and the MAGA Republicans represent an extremism that threatens the very foundations of our republic," he said at the time.
When he delivered that speech in prime time at Independence Hall, Democrats held a 7-percentage-point lead over Republicans on the issue of protecting democracy, according to NBC News polling. Since then, Republicans have erased that advantage and now hold a 1-point edge.
Eyeing those trends, Biden's allies worry that Americans are failing to grasp the stakes in the 2024 election should there be a rematch with Trump.
"Too many people are not thinking clearly," said Rep. James Clyburn, D-S.C., whose endorsement of Biden in the South Carolina Democratic primary in 2020 helped rescue his faltering presidential bid.
"The country is in a bad place. And we need to be thinking about the country and not about the personalities," Clyburn said in an interview. "This is not a contest between Joe Biden and Donald Trump or Joe Biden and any other person who may be interested in being the president. This is a contest between democracy and autocracy. That's what this contest is about."
Asked whether Trump could return to power, Clyburn said: "Sure, it's possible. All things are possible. I think it's highly improbable, but it's possible."
Gabe Gutierrez reported from Tempe and Peter Nicholas from Washington. Peter Alexander, Mike Memoli and Megan Lebowitz contributed reporting from Washington.
Source: https://www.nbcnews.com/politics/2024-election/biden-trump-describe-maga-extremist-rcna117796