Social-media users have blamed the Biden administration's move to free up frozen Iranian funds in a prisoner-exchange for playing a role in the Hamas attacks in Israel.
On Saturday, Israeli Prime Minister Benjamin Netanyahu declared in a video address that "we are at war" after gunmen from the Palestinian militant group Hamas launched a surprise attack, infiltrating southern Israel from the Gaza Strip.
Get your TRUMP 2024 Mug Shot T-shirt now!
Videos appeared to show Palestinian militants shooting at passersby in the streets of the Israeli town of Sderot. At least 70 people in Israel have been confirmed killed, with hundreds of others being treated in hospitals, according to emergency services.
Amid the most-serious escalation in the country since Israel and Hamas fought a 10-day war in 2021, users on the platform X (formerly Twitter) referred to the Biden administration's move to issue a waiver to allow the transfer of $6bn in frozen Iranian funds from South Korea to Qatar.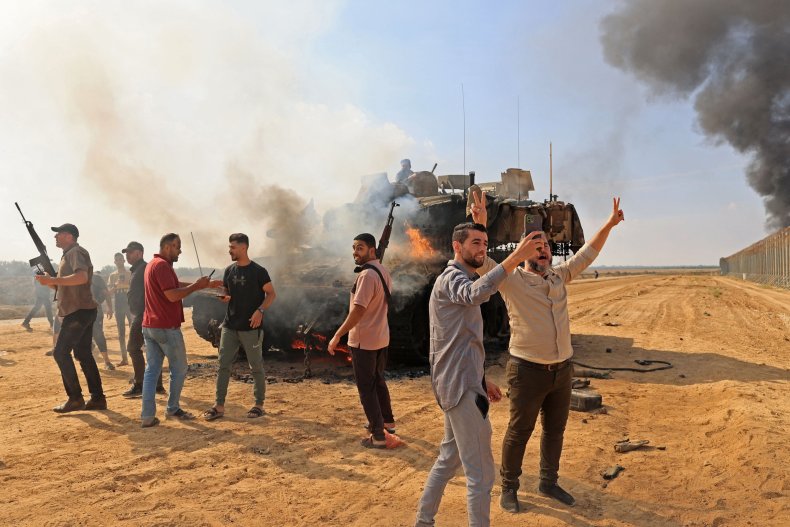 Palestinians take control of an Israeli tank after crossing the border fence with Israel from Khan Yunis in the southern Gaza Strip on October 7, 2023. Social-media users have blamed the attack on a U.S. deal with Iran, which backs the Hamas militant group.
This has allowed international banks to allow for the transfer of Iranian funds to free five Americans detained in Iran. Social-media users made a direct connection between the U.S. deal with Iran, which funds and supports Hamas, and calls for the destruction of Israel.
"If you are horrified by what is happening in #Israel right now, you can thank @JoeBiden. Iran is spending the $6 BILLION Joe Biden just gave them," posted the journalist Amy Mek. "The Islamic attack that you are watching unfold in Israel is being funded by Joe Biden and the Democrat Party," tweeted journalist and author Laura Loomer.
Conservative commentator Vince Mansfield posted: "I would like to see the Republicans in the US House open an investigation into how that $6 billion Joe Biden just sent to Iran was distributed. Specifically, did any of it go to Hamas before this latest attack on Israel."
Get your TRUMP 2024 Mug Shot T-shirt now!
Canadian journalist Daniel Boardman wrote on X that, after Biden allowed the money to be released to Iran, "now Hamas, one of the terrorist proxies they brag openly about funding, is launching a sophisticated and expensive attack on Israel. Foreign Policy matters."
Bryan E. Leib, executive director of the group CASEPAC (Combating Antisemitism Everywhere!), wrote that "the carnage that's unfolding in #Israel right now is a direct result of what happens when Joe Biden emboldens Iran. #Hamas would not be able to be operate if not for the $$ from Tehran."
Colorado Rep. Lauren Boebert, a frequent critic of the Democratic president, wrote that "we are watching the culmination of Biden's absolutely irresponsible policies with respect to Israel. He has directed funds to Palestine. UN funds have gone to Palestine. He JUST handed $6 BILLION to Iran.
"Now we see the results. Israel is our closest ally in the world. We need to stand by Israel in this deadly situation!" Boebert added.
Get your TRUMP 2024 Mug Shot T-shirt now!
Right-wing political commentator Jack Posobiec posted that former President Donald Trump had predicted the funds for Iran would be used for terror attacks across the Middle East and specifically kidnapping. "This is exactly what we are seeing in Israel this morning."
Right-wing broadcaster Mark Levin criticized Biden's "appeasement of the Palestinian terrorists," adding that the transfer of $6 billion "to the Iranian terror state, which arms these terrorists, contributed to this."
Meanwhile, editor of The Jewish Chronicle, Jake Wallis Simons wrote on X that, as well as being a failure of Israeli intelligence, the attack on Saturday was a "profound indictment of US-led policy on Iran."
"Hamas is being funded and equipped by Tehran... which the US has been appeasing and enabling in recent months, as billions of dollars have flowed into the regime's coffers," he added.
"Added to this, oil sanctions are no longer being strictly enforced. Iran is now producing up to 2m barrels a day while Biden turns a blind eye," said Simons, with the money "boosting Iran's ability to subvert, dominate and meddle throughout the region... the gruesome results of which we are seeing in Israel right now."
Get your TRUMP 2024 Mug Shot T-shirt now!
U.S. Defense Secretary Lloyd Austin said the U.S. would ensure Israel "has what it needs to defend itself and protect civilians from indiscriminate violence and terrorism."
Newsweek has emailed the White House for comment.
Source: https://www.newsweek.com/iran-israel-gaza-attack-biden-1832834